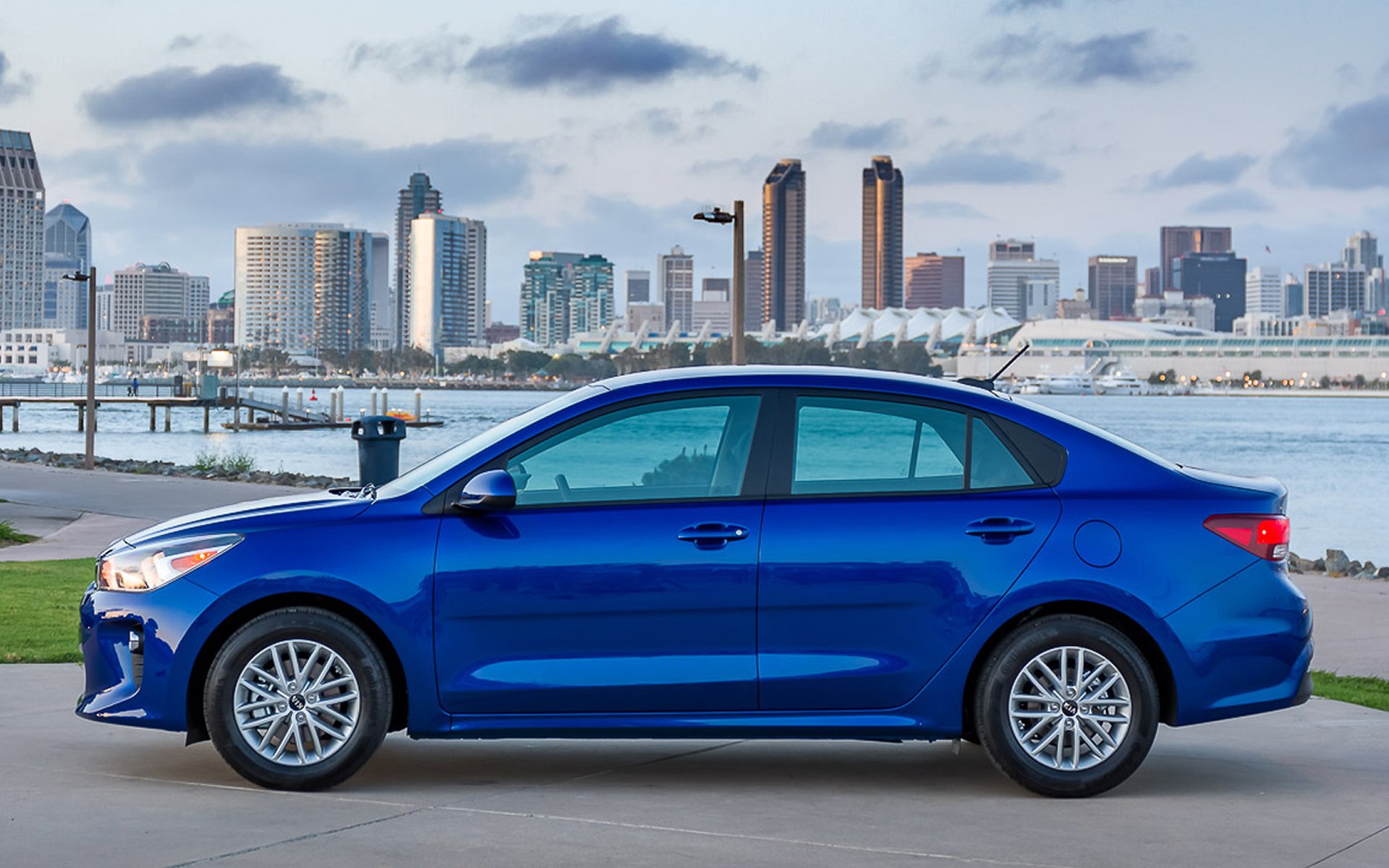 Research The Affordable 2018 KIA Rio in Auburn Hills, MI
The Innovative 2018 KIA RIO
Have you discovered the remarkable 2018 KIA RIO yet? This attractive compact vehicle has already started creating a buzz! As the most affordable in the entire KIA lineup, it offers both versatility and smart design features. Value-conscious Michigan auto buyers will want to learn as much about this model as possible soon in order to place themselves in a great position to secure reliable, cost-effective transportation during the winter.
A Well-Designed Interior
When you open the driver's side door of a 2018 KIA Rio near Auburn Hills MI, you'll make a striking observation: this compact offers the same comfort and attention to detail you might expect in a much larger, more expensively priced sedan.(1) The manufacturer engineered a stylish interior with intuitively located instrument displays. You'll notice the plush adjustable seats. Front row seats offer headrests, and rear seats will fold down to provide extra cargo space.(2) KIA even included a double-level storage tray in the front, so occupants of the vehicle can place items such as tablets and cell phones in a convenient secure yet easily-accessed location.(2) The manufacturer offers a proprietary system to promote connectivity during travel, UVO.(2) Customers can select available Apple CarPlay and available Android Auto also.(2) When you research infotainment options and available technologies for this brand, you can rely upon assistance from your local dealership serving Auburn Hills Michigan. Ask us to clarify the availability of specific features in various trim packages. We want to ensure you obtain all the features and available options you prefer to optimize your satisfaction with your car.
Compact Exterior Style
The manufacturer significantly revised this four-door compact's configuration to produce a sleeker, more streamlined vehicle. You can select the 2018 EX models in any of six glossy metal paint colors: Currant Red, Phantom Gray, Deep Sea Blue, Clear White, Silky Silver, or Smoke Blue. When you see 2018 KIA Rio near Auburn Hills MI, take a moment to study the car's appealing aerodynamic profile. You'll notice a demure upper grille placed above a broad lower one in the front, plus elegantly slanted head lamps. The curved ceiling contributes a desirable sporty element.(2) (Reportedly, drivers can choose this brand in either a hatchback or a sedan configuration.)(1) Both designs reflect trendy qualities. Many customers will want to drive this compact for daily commuting purposes- and employ it for recreation, too.
Reliable Mechanical And Powertrain Performance
The manufacturer has developed a well-deserved reputation for intelligent automotive engineering. When you visit Glassman Auto Group, ask us to point out any mechanical features of particular interest to you. This brand uses both a front and rear suspension system.(2) All trim packages offer 130 horsepower and front wheel drive.(2) Customers receive standard 6-speed automatic transmission in the S and EX, and available automatic transmission in the LX, plus all trims supply a standard 4-cylinder 1.6L DOHC engine powered by direct fuel injection.(2)
Safety Counts
Your local dealership serving Auburn Hills Michigan wants you to know we prioritize safety very highly. This compact brand supplies a number of in-demand built in safety features in addition to standard safety belt restraints. For instance, the car's strong steel framework offers protection to the cabin.(2) The manufacturer installed dual airbags in both the front and the rear, and also along the side curtains.(2) Both an anti-lock braking system and a state-of-the-art electronic stability control system assist drivers.(2) A convenient LATCH system helps secure child safety seats in place.(2) Ask us to point out any available safety features of interest to you during your test drive.
Research Trim Levels With Our Assistance
Obtain this innovative compact in three basic trim levels (LX, S and EX). Select the LX sedan at a manufacturer's recommended starting price of only $13,990.(1) The LX hatchback begins at $14,290.(1) You can select the LX trim with manual transmission, if desired.(1) The S sedans carry an MSRP of around $16,100, while the EX sedan starts around $18,400.(2) If you've searched for an affordable, economical vehicle with an attractive, fashionable appearance and easy maneuverability, you'll want to give serious consideration to this brand.
Contact Glassman Auto Group
To learn more about the exciting 2018 KIA RIO, contact Glassman Auto Group serving Auburn Hills Michigan. Simply add your email address to our dealership list, and we'll contact you as soon as the 2018 models arrive in the showroom. We look forward to the release of the new Rio models during October, 2017.(1) Given the attractive price and outstanding features of this compact automobile, we anticipate a high demand for it in Michigan. You'll want to remain in close touch with us to secure an opportunity to test drive 2018 KIA Rio near Auburn Hills MI this year. Don't miss a great chance to evaluate a remarkable vehicle for yourself. Drivers sometimes discover tremendous automotive values at this time of year. Research the Rio now so you can place yourself in a great position to discover the compact vehicle of your dreams in Auburn Hills!
*We offer this article for general information purposes only. To obtain full details about this innovative vehicle, contact your local dealership.