Michigan REVIEW - 2019 Hyundai Veloster
View Inventory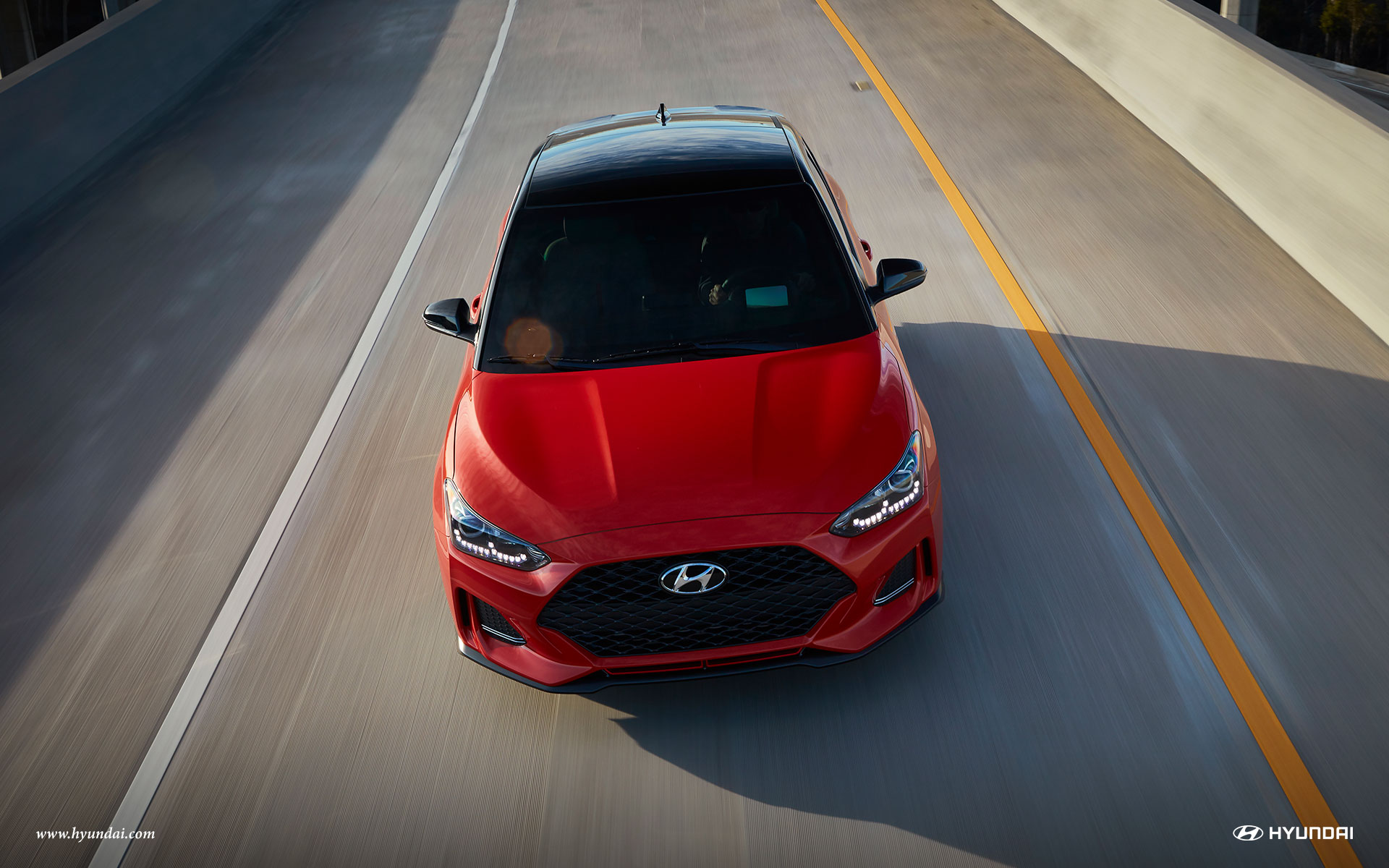 Vehicle Overview
The 2019 Hyundai Veloster is racing back with more technology to serve the modern driver. Ever sporty, the new look is even more appealing. Affordably priced, this racy ride provides personality without breaking the owner's budget. The speedy Turbo and R-Spec versions make the case for competitive driving. In this Michigan review by Glassman Auto Group, we'll take a look at the way this car is claiming the road.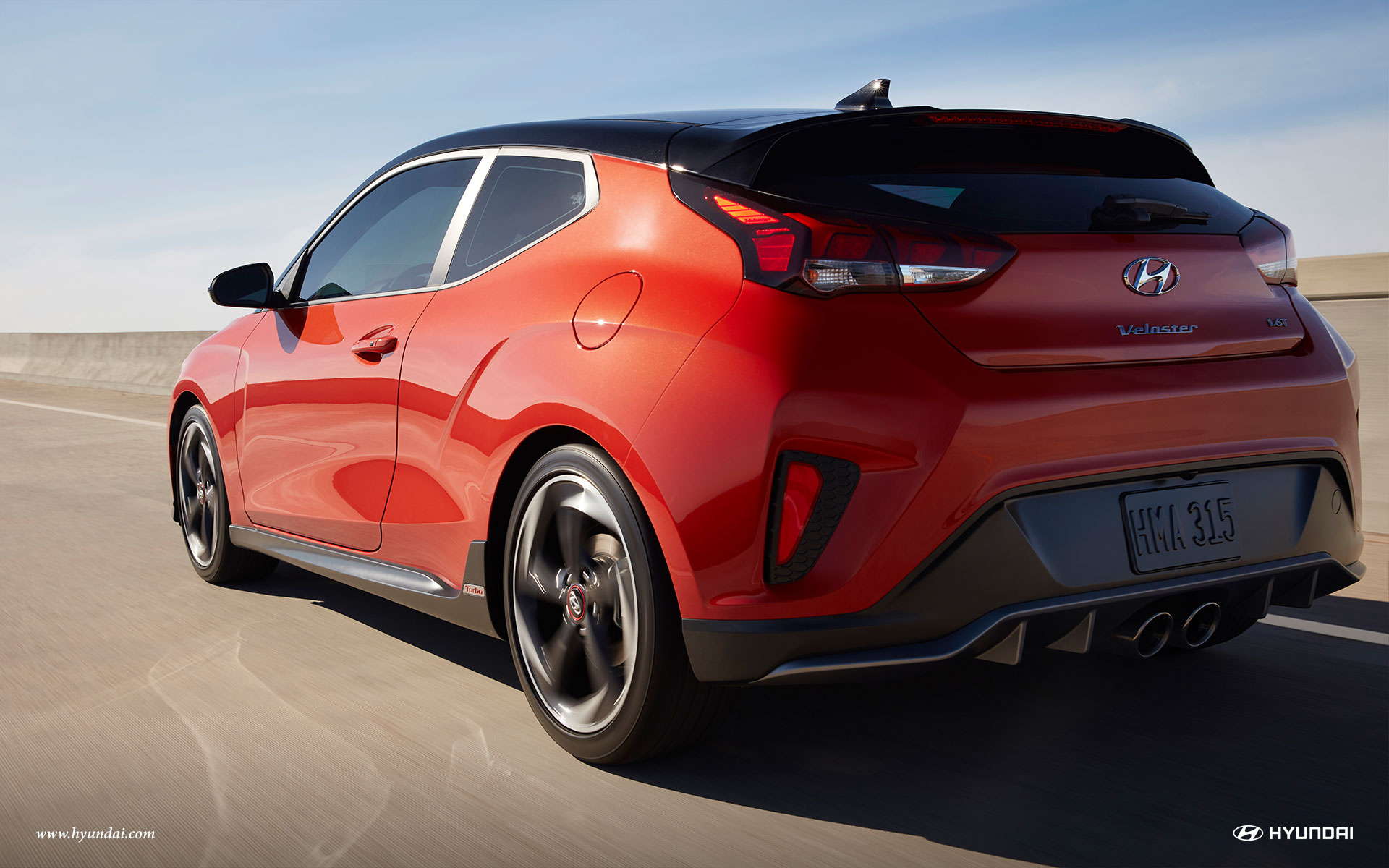 Exterior
The new look speaks to those Michigan drivers who insist on individuality. A revised shape seems to move even when it's standing still. Higher-volume fenders and bigger wheel arches help it achieve a more muscular, planted stance. You can fill up that space with really big 18-inch alloys. The coupe-like appearance has been heightened by sweeping the cowl point back and moving the A-pillar further rearward. Likewise the lowered roofline creates a more coupe-like profile. The sides still have the three-door cabin design that tricks the eye. It offers a wide-open third door for easy access to the generous backseat. The rear has an integrated diffuser design that is decidedly more aggressive. The center-fascia chrome-tipped exhaust pipe will be doubled with the Turbo and R-Spec editions. You can add LED taillight to complete the high-tech effect. To put your stamp on the look, you can pick a darkened roof, providing high contrast with one of the exterior exciting color choices at your Hyundai Michigan dealership.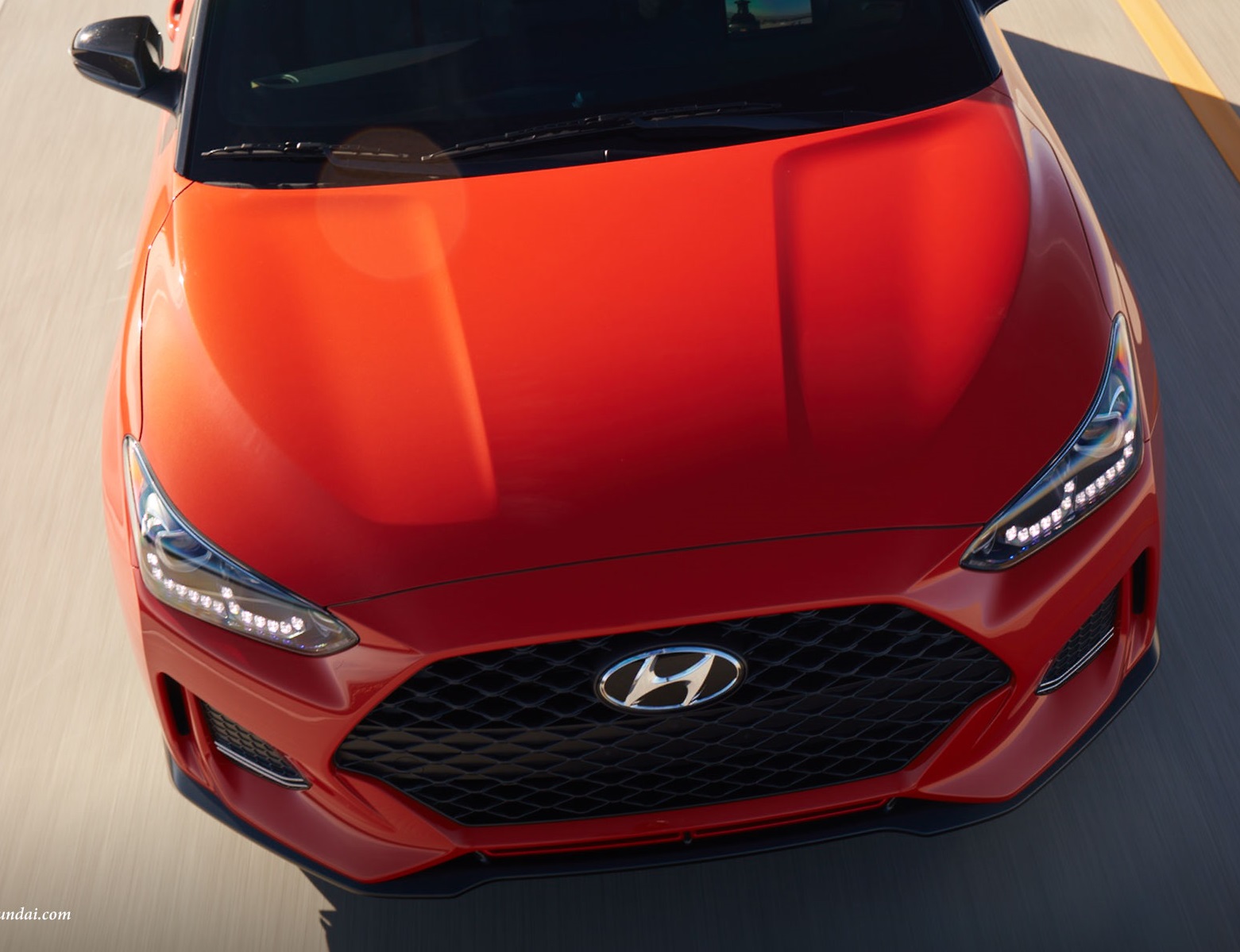 Interior
Always sporty, there's something so unique about the 2019 Hyundai Veloster interior. It carries on the unusual exterior motif with its distinctive look and sporty attitude. A new Turbo Ultimate lets you pick contrasting colors for the cockpit to visually separate it from the whole. This is the right approach in a driver-focused layout. As you climb the trim ladder, you will be delighted to find many materials, colors and accents. This variety in texture and hue allow each 2019 model to stand apart from the crowd. You can see for yourself when you visit your Hyundai Michigan dealership. The Glassman Auto Group staff can answer your questions about this Michigan review.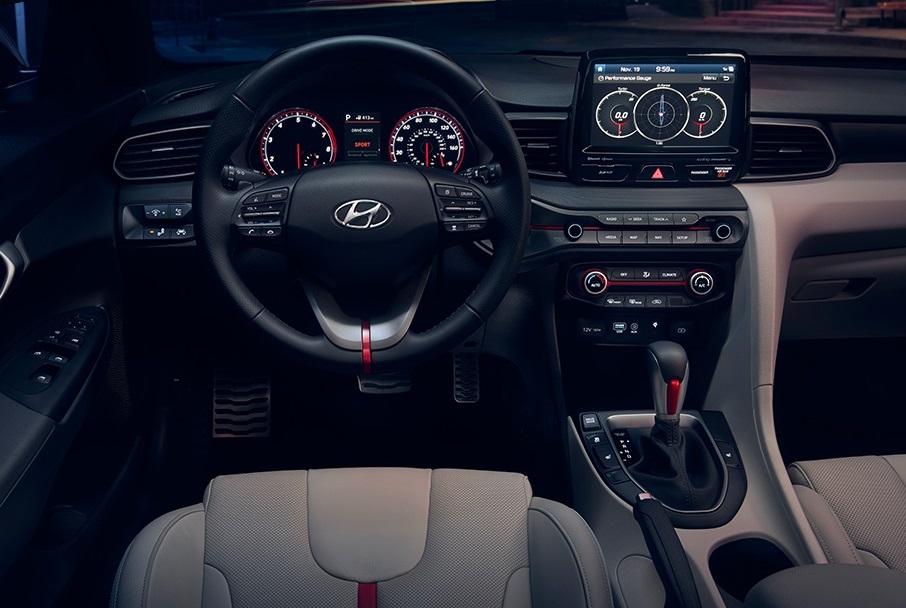 Dash tech has been multiplied on the model menu. You get a multi-touch screen with important swipe and pinch functions. HD radio, Qi wireless charger, and navigation are available. A new split-screen function lets you monitor your audio system and navigation simultaneously. Our favorite addition is the junction lane guidance for navigation. With your purchase, you get three years of Remote Link services. You'll never get locked out with this app on your phone.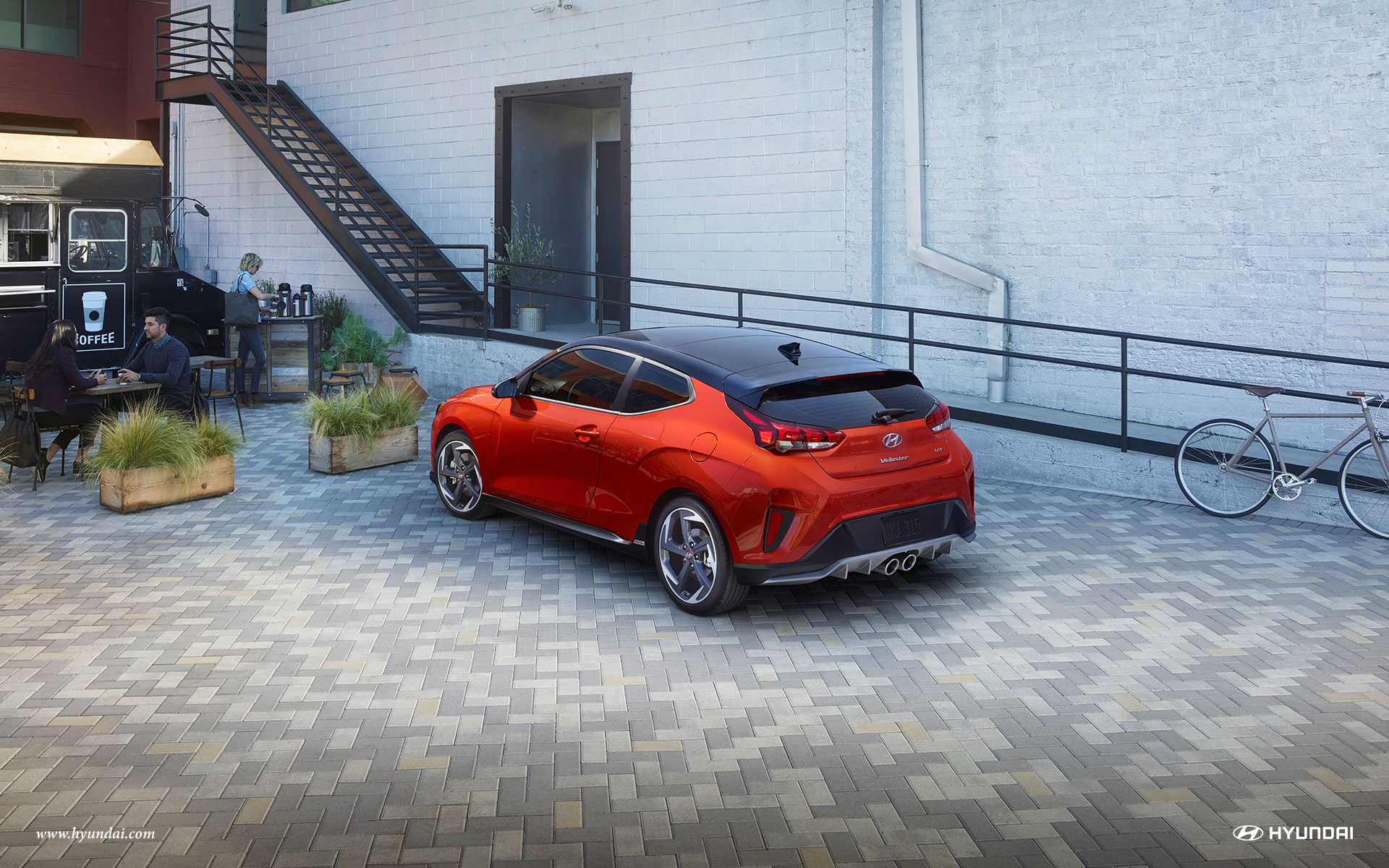 Mechanical
A manual and automatic transmission are offered to match your preferred driving habits. Likewise, the car has three driver-select modes including Sport and Smart. Turbo models offer the convenience of a seven-speed dual-clutch transmission. To help with handling, torque vectoring control lets you enjoy dynamic cornering. The 2019 Hyundai Veloster is prepared to stop, steer and cruise like never before. Brake Assist and electronic brake-force distribution amplify the effectiveness of anti-lock, four-wheel disc brakes. Vehicle Stability Management can recognize an unnatural pull on the car and provide counter steering. Motor-driven power steering works to correct all understeer and oversteer imbalances. You can review how these systems work by taking a test drive at your Hyundai Michigan dealership.
Powertrain
The 2019 Veloster is a lightweight sports car with a frugal soul. The NU engine will offer superior efficiency and an ample 147 horsepower. If your need for speed is greater than the NU can supply, you may step up to the GAMMA 1.6-liter turbo. It kicks out 201 horsepower and 195 lb.-ft. of torque. Still want more? You can hit the overboost function and grab more torque for serious acceleration prowess. This review can't do this function justice. You'll have to test drive it to discover the fun.
Safety
Standard on all models, a rearview camera offers dynamic guidelines. If you want to supplement that, you can get the help of a rear cross-traffic alert. It warns you to stop if cars are traveling toward your reverse path. The new Veloster offers a blind spot monitor which works to keep you from side-swiping neighbor cars. A driver attention warning may be your wake-up call if your driving habits reflect sleepy or distracted behaviors. You can get a lane keep alert with assistance. Again, the car is trying to help you avoid side-swiping another vehicle. It does it with a gentle tug at the wheel as well as sounding an alert. The helpful High Beam Assist raises the light when the coast is clear and lowers it when it detects the lights of oncoming vehicles. Perhaps the best news in this Michigan review of the 2019 Veloster is the fact that it now offers to minimize collision impact by braking autonomously. If the front-view camera system recognizes a danger, it alerts the driver to stop. If a Michigan driver can't stop fast enough, the autobrake intervenes to reduce the chances of a crash.
This review must draw to a close. It carries with it an invitation for you to test drive this car at Glassman Auto Group in Michigan. Come see our selection and put some fun into your everyday commute.