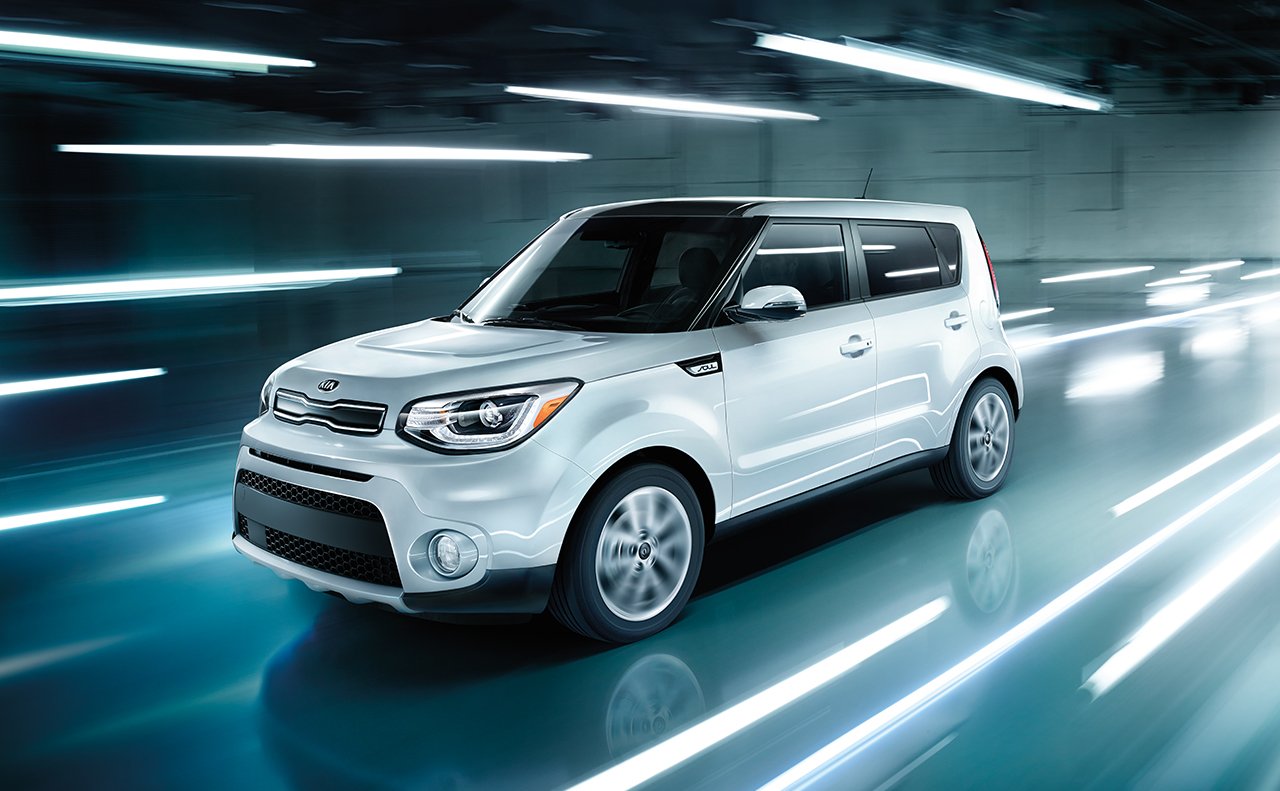 2018 KIA Soul near Canton MI
The Kia Soul gives you the splendid compromises of a crossover - car meets SUV - in a subcompact package. That means all of the utility of crossover but with an emphasis on convenience and affordability. This has been an incredibly popular model in the Canton area and throughout the United States. The 2018 KIA Soul, which is available at Glassman KIA and other dealerships serving Canton Michigan, looks to continue that success by keeping up with modern auto trends. In addition to being sleeker and more sophisticated, there are a lot of great deals to take advantage of. These include dealer incentives and financing specials on top of the already low manufacturer's suggested retail price.
2018 KIA Soul - Interior
The 2018 interior is really impressive, and the manufacturer is marketing it with the slogan: Your living room has some competition. It's plush. It's quiet. It's totally tailored for comfort. The 2018 Soul has an eye-catching exterior for sure, but the interior is every bit as beautiful. Soft-touch materials are used throughout, and everything looks richly appointed. The interior even features mood lighting. You can set the color to a particular choice, or you can let it react to your choice of audio. The system will change color and even intensity based on the current track. Another key feature added this model year is optional seating that can be both heated and ventilated. The driver and all passengers can stay cool in summer and warm in winter. This model also reintroduces push-button engine start and stop and repositions it so that it's easier than ever to use. You also have the option of a panoramic sunroof, which you can open or close with just the touch of a button.
2018 KIA Soul - Exterior
There's little doubt that the new exterior is attracting a lot of attention. People just driving through the Canton area are stopping in at Glassman KIA when it catches their eyes. The manufacturer has been advertising it as: It's the Soul you know. It's not the one you know. The visual cues have been updated, but this is largely similar to models in the past. What has changed are the options you have available and the both substantial and subtle changes you can make. Perhaps the two most obvious changes are the headlights and taillights. The visual design of the headlights has been completely revamped, and the technology has changed to high-intensity discharge or HID. The taillights have also been redesigned and replaced with LEDs, and as KIA puts it: Now your departure looks as impressive as your arrival.
2018 KIA Soul - Mechanical
The 2018 KIA Soul available at Glassman KIA serving Canton Michigan comes with a four-wheel antilock braking system for maximum braking power in any situation. Both the front and rear brakes are disc brakes. The front suspension system uses a strut, and the rear suspension system employs a torsion beam. The wheelbase is 101.2 inches. The wheels are 16-inch alloy wheels by default, but you can upgrade to either 17-inch or 18-inch. The default tires for both the front and rear are P235/45VR18.
2018 KIA Soul - Powertrain
The 2018 KIA Soul near Canton MI gives you three engine options. The base option is a 1.6L engine that delivers 130 horsepower at 6,300 rpm and comes standard with a six-speed manual transmission. An automatic transmission is an option. The default is a 2.0L four-cylinder that delivers 161 hp and comes standard with a six-speed automatic transmission. New for the 2018 KIA is a Turbo option. This is a 1.6L motor that boasts 201 horsepower and is paired with an exciting dual-clutch seven-speed automatic transmission. The mid-range option is targeted at daily driving. The Turbo, on the other hand, is targeted at drivers who want strong acceleration at low speeds and from a stop.
2018 KIA Soul = Safety
The 2018 KIA Soul near Canton MI features smart passive safety systems that are designed to deliver added protection. This is a vehicle you can drive in the Canton area with great peace of mind. Redesigned front and rear crumple zones absorb and dissipate energy on impact. The sides have been reinforced with steel beams to deflect energy and absorb what remains. A new advanced airbag system has been introduced, which includes dual front airbags, front-seat-mounted side airbags and full-length side-curtain airbags. The 2018 KIA Soul near Canton MI also features redesigned over-the-lap seat belts and shoulder straps, and it integrates a number of child-safe features, including LATCH.
The time to consider the all-new 2018 KIA Soul is now. This is an exciting vehicle, and the price and financing specials available right now may be the best they've ever been. Even people who've though I can't afford a new car right now are driving away in time. The money down and cost each month has been a lot less than they've thought. Your dealership serving Canton Michigan can help get you started with just a phone call or by contacting them via the website or by email. If you have the time, though, you owe it to yourself to come down and test-drive one or a few of these Souls. You never know: Today may be the day you drive away in that new car that you deserve.