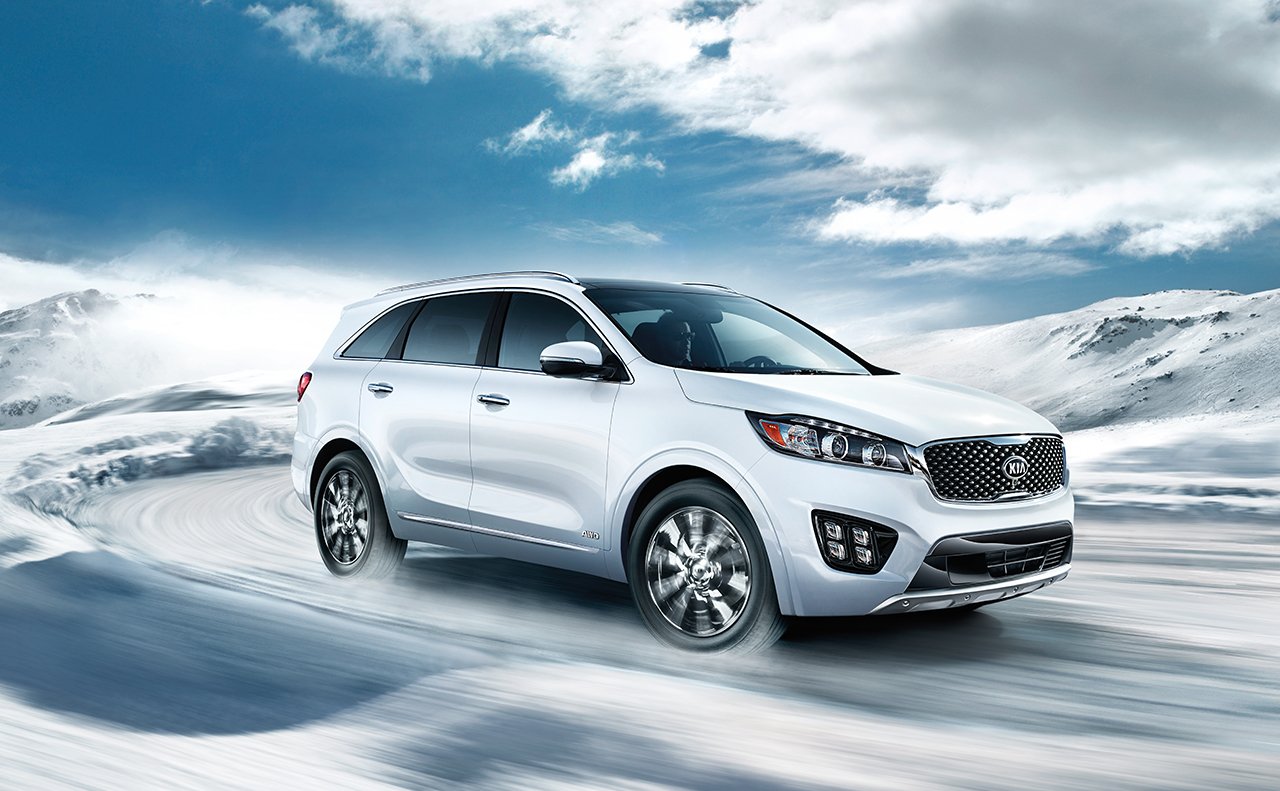 2018 KIA Sorento near Canton MI
The Kia Sorento is routinely considered among the best available midsize SUVs and for good reason. Combing a long list of features, available options and strong praise from professional car reviewers, the 2018 Kia Sorento offers a lot for anyone shopping midsize SUVs. Some of that praise includes things like a "Spacious interior with high-quality materials," or, "user-friendly infotainment system and controls," and a, "quiet, comfortable ride."  Anyone interested in looking for a midsize SUV would be well suited heading over to Glassman Kia, who are offering Canton area specials on the 2018 Kia Sorento. Glassman Kia is serving Canton Michigan and offering the 2018 KIA Sorento near Canton MI. If you need to know more, contact Glassman for additional information.  Here is a brief overview of what potential shoppers can expect from this fantastic 2018 SUV.
2018 KIA Sorento - Interior
Many aspects of the interior were justifiably praised. The interior can be fully customized and upgraded to include heated or ventilated seats in plush Napa leather with 14-point lumbar support for maximum comfort. Even the base models are praised for their usage of plush and premium materials to give the interior a luxury feel. The infotainment system is widely praised for both its depth and accessibility. The available panoramic sunroof will give passengers a brilliant view of the open sky underneath excellent head space. With 3 USB, 3 12-volt inputs and a plug, you will not have any issues keeping your electronic devices charged.
2018 KIA Sorento - Exterior
Inner beauty is nice, but why not have some outer beauty, too? No need to worry: the Sorento has both. From the very front, with the Kia exclusive High-Intensity Discharge headlight system to an available rear power liftgate, the exterior of this vehicle has it all. Newly styled for bolder looks, even the front grill is likely to attract some head turns as you drive along. At the back, the power liftgate offers you the kind of convenience and utility that you might need while hauling cargo, which this midsize SUV is fully capable of doing. Looks, style and grace are all on display. Eyes will widen and heads will turn when you drive around town in this stunning SUV.
2018 KIA Sorento - Mechanical
Unlike other companies that produce bland all wheel drive systems that make acceleration and cornering clunky and uncomfortable, Kia's Dynamix All Wheel Drive system accentuates and compliments the mechanical underpinnings of the vehicle. Every aspect of the drive works in perfect harmony to make this 2018 midsize SUV feel like European sports sedan. Changing the Drive Mode will additionally alter the driving dynamics of the vehicle to give you the exact feedback you require for whatever driving scenario you face. The precise Dynamix and Torque Vectoring Control system will make the curviest mountain roads feel like an exhilarating cruise instead of an arduous climb. Built on the rock solid structure of MacPherson struts matched with coil springs and stabilizers in the front with independent multi-link dual-dampening suspension in the rear, rest easy knowing this car was built to ride comfortably.
2018 KIA Sorento - Powertrain
Any potential shopper will find themselves with a few options to choose from. Three strong engines power the 2018 Kia Sorento. You could chose a practical and capable 2.4L Inline 4-cylinder engine on some of the base models, or your could upgrade for something extraordinary, including a 2.0L Turbo on the EX 2T model, or a 3.3L V6 that produces an impressive 290hp on the LXV6, EXV6, SX and SX Limited models. All engines are designed with advanced Continuously Variably Vale Timing (CVVT) and gasoline direction injection, or GDI. All of these engines are paired with a cutting edge 6-speed automatic transmission with overdrive. In summation, you have three options to choose from, but there is no wrong choice. Any of these fantastic power-units will ride smoothly down the road or launch off the line; whatever power you want is whatever power you can have.
2018 KIA Sorento - Safety
Advanced safety comes standard with the 2018 model. Without spending any additional money, you will have electronic stability control, electronic brake force distribution and a structure that is 53% advanced high steel. It is not an exaggeration to say that you get more safety standard with this midsize SUV than you can get in many alternatives with all of the options included. Additional safety features include active handling that comes with electronic brake assistance working in conjunction with brake force controls. The crash structure, air bags and even seat belts have all been designed to keep passengers safe if anything goes wrong; far safer than other vehicles in the same category, even. In short, this midsize SUV has been praised for its impressive safety and for very good reason: it is among the safest vehicles on the road.
2018 KIA Sorento - Conclusion
As you can clearly see, the Kia Sorento has been widely praised for a variety of reasons. The plaudits have been hard earned and this vehicle is worthy of its sky-high approval ratings and journalist ratings.
If you are interested in a 2018 KIA Sorento near Canton MI, contact Glassman Kia as soon as you can to set up a test drive. Only Glassman is serving Canton Michigan by offering Canton area specials. Glassman is serving Canton Michigan with a number of exciting offers. Set up your test drive with Glassman to take advantage of those Canton area specials today!